The NEON project aims to develop the necessary tools on which energy communities and their members can take a step forward in the management and valuation of their energy assets and performances, both in an aggregated and disaggregated perspective. The main objective is inducing a behaviour change of different types of users (household or building profiles) through the dynamic valorisation of energy services such as production or demand forecasting, performance optimization, or shared flexibility, distributing incentives accordingly between service providers, grid stakeholders/ utilities and users. Some of the use cases to consider are:
Variable quotation of third-party service based on its reliability in the prediction of energy savings provided
Monetization for energy data availability to third parties, both as community or consumer level
Payment in advance, depending on the flexibility offered. Bid & ask marketplace and payment readjustment
Incentivization for the commitment regarding the development of good practices or efficiency improvements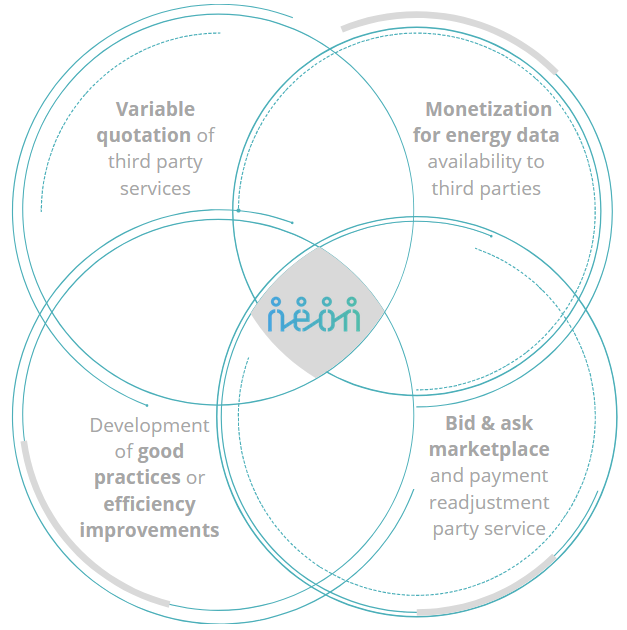 The energy transition towards a decentralized model, both at the level of production and management of virtual entities/ identities, requires technological and methodological advances that guarantee the robustness and resilience of the different systems and services. Pay-for-performance (P4P) mechanisms will enable new business models, but it is necessary to develop a methodology agreed by the different stakeholders (ESCos, grid stakeholders and utilities, service providers and users) to ensure the viability of the model. NEON intends to design and validate the measurement and verification (M&V) processes that allow the integration of data from the different systems and technologies, a dynamic calibration of the different prediction algorithms and valuation services and proceed with the automated settlement and distribution of the incentives. To do this, distributed ledger technologies (DLTs) will be used, which offer the possibility of:
Secure energy data exchange and management
Continuous assessment of energy savings and shared flexibility
'Smart contracts' for automated settlement procedures and transaction auditability
Adequate remuneration considering P4P for both demand services providers and consumers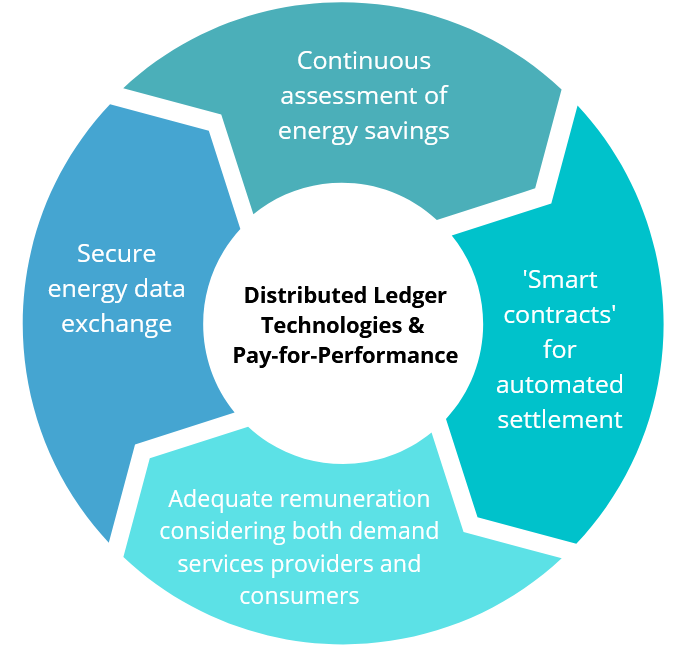 The module that enables the measurement & verification (M&V) and pay-for-performance (P4P) processes integrates different service layers that allow orchestrating the different energy assets (e.g., in case of DR events or demand peaks), guaranteeing access and data exchange or define energy assessment and automate settlement and remuneration.
The NEON consortium integrates different partners with complementary knowledge areas and interests, ensuring different approaches to afford this challenge. Concretely, GirdAbility is leading the Work Package focused on Innovative M&V methodology and service remuneration mechanisms and together with Engie have started in June the definition of the distributed ledgers for secure energy data exchange and management. Recently, Albedo Energy, Institute Mihajlo Pupin, R2M and Axpo have started the design of the performance measurement and verification methodology to achieve a continuous auto-calibration between baseline and target demand curves. After one year of project execution, we are convinced to obtain great results. To know more about our progress, STAY TUNED!
Written by Miquel de la Mano, GirdAbility